Greeting new golden ten years with the belief of victory
2017-12-31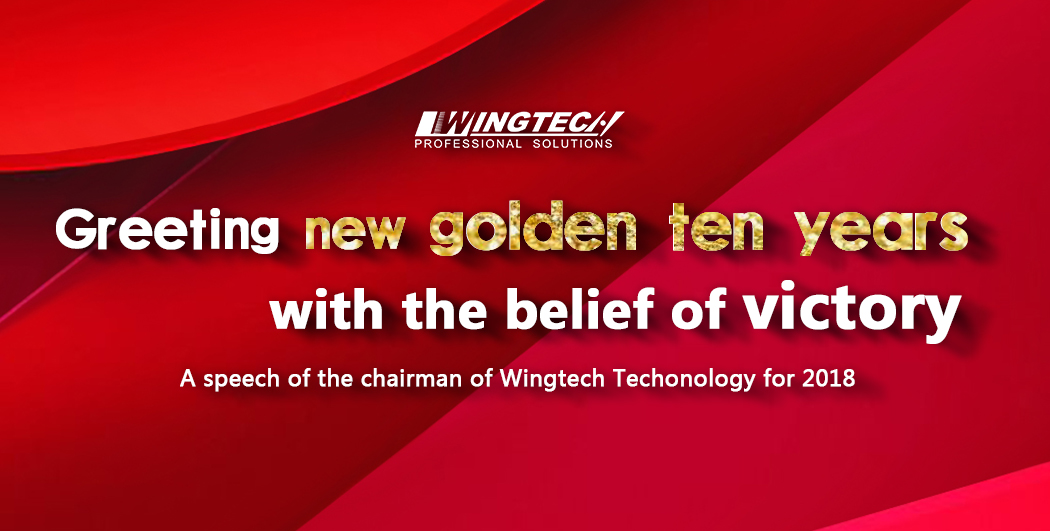 WINGTECH colleagues,
2017 was a special year, an unforgettable year for every Wingtech people. In this year, we successfully completed assets reorganization and renamed the listed company to Wingtech Technology. Wingtech has become the only A share listed company in Chinese ODM industry. As an excellent representative of Chinese ODM industry, the performance of Wingtech has also been highly recognized by shareholders, investors and investment institutions.
In the last month of 2017, Wingtech Technology released an announcement announced that the real estate business was stripped in the process of restructuring; based on the future development strategy, Yunnan Rongzhi and Shanghai Xitong were introduced as new shareholders in order to build extensive layout in the semiconductor field. It is believed that these two partners will help Wingtech to have a better layout in the future.
Reviewing the past 11 years of Wingtech, at the begining, Wingtech only provided PCBA and software services as an IDH, then it provided handset for operators in 3G era; now Wingtech provides mobiles phones, tablets, laptops, AR/VR, automotive electronics and other intelligent products for global customers in 4G era. We continue to bring technologies in high-end machines to middle-end and low-end machines in order to let global consumers enjoy the fun of science and technology. We also improve efficiency and quality constantly to create greater value for our customers and become the leader of the ODM industry.
2018 is a new starting point for the Wingtech, we should make full use of the past 11 years of industry accumulation and development experience, using capital from stripped real estate business to develop mobile phones and promote full screen, artificial intelligence & #40;AI& #41; popularity; we should also follow NB-IoT and 5G trend to expand business in AR/VR, automotive electronics, artificial intelligence & #40;AI& #41;, intelligent hardware field, Qualcomm platform notebooks and servers field. Our strategic aim is to make the ecological chain platform of the industry stronger and bigger.
Mobile phone business
Improve quality, provide service for global customers
In the past few years, Wingtech mainly developed products based on low end and ultra low end chip platform and the quality of the products are low. In 2017, Wingtech's products improved both in quantity and quality especially in quality. Now, more than 90% of our projects are developed based on Qualcomm Snapdragon high-end 8 series, mid-end 6 series and 4 series, and other mainstream technology platform such as MTK P20. The quality of products are improved significantly.
In 2018, Wingtech will continue to focus on high-end and middle-end mobile phones based on Qualcomm platforms to launch more high - quality mobile phones. From the third quarter of 2017, we have begun planning a large number of comprehensive screen projects for our customers which will be launched in 2018. We will fully popularize the screen in high-end and low-end mobile phones. At the beginning of the second half of 2018, Wingtech will also start the 5G test and R&D of mobile phone to make full preparation for the coming of the 5G era.
In 2018, Wingtech will continue to cooperate with current customers to create best-selling products and also develop new customers actively. In 2018, Wingtech's customer base will be more reasonable and balanced. Our customers are mainly online and offline. There are domestic leading brands and international leading brands. There are domestic operators and European and American operators. Wingtech will provide high quality R&D and manufacturing services for global brands and operators.
Notebook business
Innovation and development
In 2017, with the support of the Qualcomm Corp, Wingtech began to develop Notebook products based on Qualcomm platform. The new generation laptop based on Qualcomm platform is equipped with the mobile platform chip, and the latest Microsoft Windows10 operation system. It has the advantages of no fans, low power consumption, long standby, light weight, and real-time 4G online advantages. With deep cooperation with Qualcomm, Wingtech introduced mobile phones industry chain to the notebook market, marking that the company has opened up a new market and entered the field of notebook computers field formally. As a Qualcomm supported project, Wingtech Communications has been in contact with a number of notebook customers and has reached a cooperative intention. The new generation Windows laptop computer based on Qualcomm mobile platform is about to be released in CES, and will be on the market after the Spring Festival. In addition to notebook computers, we will also develop server products based on Qualcomm mobile platforms.
Wingtech will use 11-year-expercience of technology and supply chain in the mobile terminal industry to help customers develop new generation server products and notebook computer with better quality.
Intelligent hardware business
The layout of the future, grabbing gold ten years
The executive chairman of the Google Corporation, the Internet giant, Eric Schmidt predicted that the Internet is about to disappear, a highly personalized, interactive and interesting world - the Internet of things is about to be born. Schmidt said that there will be a huge number of IP addresses, sensors, wearable devices, and things that can not interact with them in the future, and will always accompany you. The US market research company Gartner predicted that by 2020, the Internet of things will bring about 30 billion dollars of market profit every year, and 2 billion and 500 million devices will connect to the Internet of things.
The development of Internet of things will greatly stimulate the development of intelligent hardware, such as vehicle networking, smart home, AR/VR, artificial intelligence & #40;AI& #41; and so on, making IOT technology truly serve intelligent life. In the next 5-10 years, it will be the rapid growth period of the Internet of things and a golden time for the development of intelligent hardware in the world.
Nowadays, intelligent hardware must combine with wireless communication technology. No matter in the era of NB-IoT or 4G/5G, Wingtech is in the best position. We should make full use of the golden age of Internet of things in the next 5-10 years to form a comprehensive breakthrough in the field of intelligent hardware. Wingtech has realized the expansion of the industrial structure of intelligent hardware such as AR/VR, car networking, smart home, artificial intelligence & #40;AI& #41; and so on, with mobile phone as the core. In 2018, we will increase investment, build layout of the future, seize the golden development period of intelligent hardware in the next ten years to build a 100 billion output value intelligent hardware ecological chain company, and become the main leader of the intelligent hardware industry.
We have to realize that our customers and are more and more excellent, our products are stronger, our strategic partners are more competitive, our business fields are becoming wider, our competitors are becoming less, but our industry and the market is undergoing dramatic changes, the difficulties and resistance will be bigger.
The achievement of Wingtech is not easily won, it's the result that Wingtech, all suppliers, all customers and all partners made jointly, there is a new platform as a listed company, we are at the start point of golden ten years of intelligent hardware , Wingtech staff should have spirits of entrepreneurship to adjust their mentality, to set lofty goals, build strong determination; accompanying our customers, our partners and our suppliers in the next golden ten years. We should not only become the leader of Chinese industry but also follow Chinese industry chain to become a global leader in the industry.
Finally, on behalf of the management team of Wingtech Technology, I wish you and your family healthy and happy.
Thank you!
Wing
2018.1.1